posted on 14 May 2008 11:12 by funnutas in Oho
____________________________________________________________________
Make XP cooler than Vista!
Please Download these programs in freemode!
WindowBlinds Enhanced
WindowBlinds is a one-of-a-kind utility that allows Windows users to completely change the look and feel of the Windows interface by applying a new skin. There are thousands of different skins to choose from that are freely downloadable from the WindowBlinds website.
A WindowBlinds skin can make Windows look like an alternative operating system, like their favorite sports or car brand, or something completely new. Because WindowBlinds uses the latest hardware acceleration features of modern video cards, WindowBlinds won't slow down your computer and uses very little memory.
WindowBlinds is safe and easy to use. It doesn't alter any system files and users can switch between the default Windows look and feel and a custom WindowBlinds skin with the click of a button. In addition, WindowBlinds has been tested to ensure it works with Windows Vista, so you know it is compatible, reliable,, and more secure.
Skins for WindowBlinds:
WhiteFlame - Vista Perfection
INVI PRO (My Favorite)
Icons:
Stardock IconPackager
IconPackager is a program that allows users to change nearly all of their Windows icons at once by applying "packages" of icons. A package of icons contains icons to replace most of the common icons on your Windows PC.
What makes IconPackager special is that unlike Microsoft's themes which only change a few icons, IconPackager changes hundreds of icons. Everything from "My Computer", "Recycle Bin", Folders, all the way to specific file format icons such as .doc and .xls files and any other file type a user wishes to use.
Highlights:
Can change nearly all of the Windows icons at once by applying icon "packages."
Can change the file type icons.
Includes Icon Explorer, designed to make it easy to navigate through libraries of icons and view them easily.
Shell integration allows users browsing through their system to right-click on any file and go to the added "Icon" tab and change the icon.
Vista Icons for IconPackager
IconX
IconX enhances your Windows desktop icons. Give them shadows, make them any size, have them zoom up on mouse-over and much more. In short: Make your desktop icons look totally awesome!
Highlights:
Allows you to re-label your icons. Changing the labels can make them easier to read or better identify what the icon represents
Adds anti-aliasing to icons to make them smoother and more attractive.
Perfect for those with impaired vision who still use the computer.
Aero Cursors
Windows Vista Ultimate Login
BootSkin
Stardock BootSkin is a program that allows users to change their Windows XP boot screens.
Unlike other programs that can change the Windows XP boot screens, BootSkin does so in a safe manner. It doesn't patch the Windows XP kernel. Nor does it require the user to download replacement Windows XP kernels to do so.
10 great Vista Bootscreens:
http://rapidshare.com/files/93362666/bootskins.rar
3D Flip
This is a program that can make the 3D Flip effect from Vista.
3D Cube
DeskSpace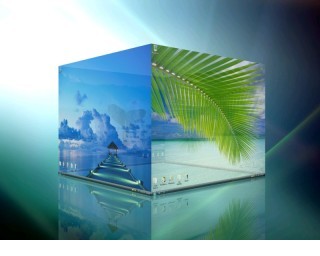 Features and Benefits
DeskSpace dramatically enhances your desktop experience, allowing you to:
Work and play on multiple desktops.
Display multiple desktops in stunning 3D.
Quickly switch between desktops using the mouse and keyboard.
Drag windows between desktops by moving them to the sides of the screen.
Display desktops in 3D on multiple monitors.
Configure the hot keys and mouse buttons used to switch between desktops, and how DeskSpace displays and manages desktop.
Use DeskSpace in multiple languages.
3D Desktop
Real Desktop
This software will transform your desktop into a real one, as it was meant to be.
As you most probably know, the file queues on your Desktop becomes ever longer, daily coming new files and you lose slowly but surely the overview.
Are you missing the certain order, the fealing of a genuine desk, simply the reality? Real Desktop brings back this experience to you again!
Your icons behave now, thanks to the powerful physics-engine, like real objects that you can touch and move as on a real desk.
Vista effects and much more
WindowFX
WindowFX is a revolutionary new program that allows you to add an unprecedented number of special effects to windows.
Features:
True, alpha blended shadows under windows
Ability to morph windows when minimizing and maximizing
Several different morphing effects available.
A set of window opening and closing animations
Ability to have large icons on the desktop while having normal sized icons everywhere else
Wide range of semi-transparency options such as making windows, the start bar, menus, and more semi-transparent
Various special effects for Windows desktop icons and their labels
A set of special effects for menus when opened and closed
User defined size for windows to maximize to.
Able to add more transition special effects and shadows created by users
and more!
Here you have a little video with what WindowFX can do:
http://www.stardock.com/products/windowfx/wfx3/wfx3-video.wmv
More windowfx effects:
Icon effects:
UberIcon
ÜberIcon creates a more customizable atmosphere on your desktop by extending Windows to perform new effects when you launch your icons and folders. The effects are plugin-based to give you control over the look and feel
ObjectDock
ObjectDock™ is a program that enables users to organize their shortcuts, programs and running tasks into an attractive and fun animated Dock. By allowing users to have more control over how they organize their desktop, users can take control of their desktop icons and shortcuts to have them be available when where and how they need them. This, all with the unique style and top-rate performance that ObjectDock is known to deliver!
In constant development, ObjectDock and ObjectDock Plus are enhanced often to provide the most unique features of any stylized shortcut organizer / launcher available.
New in v1.9! Cool new Stardock ReadyView™ weather flyouts, minimize animation in Vista, smoother / quicker drawing with smoothness settings and more! New plus-exclusives include all new improved taskbar status area handling, special taskbar modes, and more!
Styler toolbar
This application allows you to do a lot of interesting customizations, though it is not easy to use at first.
It can add a drop shadow to your windows, change Clear Type contrast, change a visual style's color or a wallpaper's and much more ...
But its most useful function is located in the "Styler Toolbar" which can entirely change the look and feel of the Windows XP's toolbar. So, you can change your toolbar to make it look like Windows Vista's or Mace OSX's.
Styler doesn't use much memory (less than 1MB when it's used in the background), but to use all its function, especially for the drop shadow, you'll need a powerful computer.
RoTKiV's "Vista" skin is included in the archive, To install it, just drag and drop the "Vista Styler" folder into "Program FilesStylerTBskinsStyler's", it's that simple.
Madotate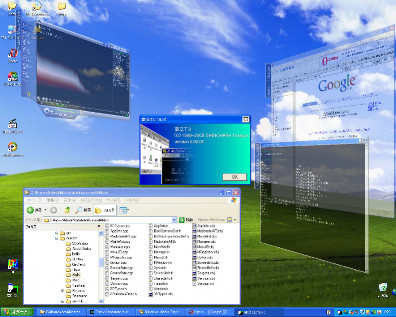 Manage windows more easily in a 3D desktop
Would you like to interact with any version of Windows in a 3D desktop, without loading up the system resources? Actually, there are lots of applications that allow you to do so, but they take to much system
resources. Bottom line, they are useless.
However, there's a nice tool that makes 3D desktop possible under Windows 2000/XP without hogging your whole system. It's called Madotate and works pretty well. Its 3D desktop management helps organizing your work a lot. Besides, it only takes a peak usage about 5 MB of RAM.
To install it, just create a folder on your hard drive, unzip all files and run it. It also includes a plugin that adds a button on every window to make it 3D/2D.
Please download these programs in free mode!
________________________________________________________________________________________________________
Package กันแบบเต็มๆเลยละครับ เห็นว่าน่าสนใจดีเลยเอามาฝาก
ผมไปเจอมันมาจาก Zone-IT นะครับ เพราะฉะนั้น Credit ก็...
Credit:
Make XP cooler than Vista
_______________________________________________
edit @ 14 May 2008 11:26:12 by funnut (จากAS)
edit @ 14 May 2008 13:38:56 by funnut (จากAS)
edit @ 19 May 2008 05:40:04 by funnut (จากAS)